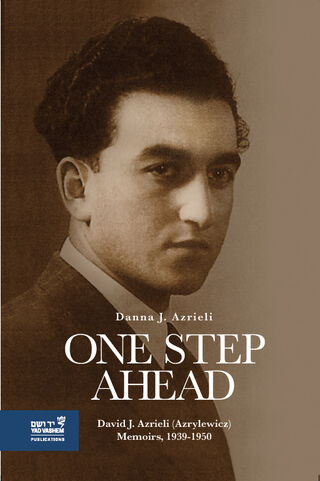 Our Inspiration

---
We believe stories are powerful. This fundamental belief led to the creation of the Azrieli Foundation's Holocaust Survivor Memoirs Program. Our founder, David Azrieli, z"l, inspired us to share the stories of Canadian survivors through his own story of becoming a refugee and running from place to place in search of safety during the Holocaust. David's daughter Danna Azrieli wrote the book One Step Ahead based on the stories and memories David shared with his family over many years. First published by Yad Vashem in 2001 and now released in an updated second edition, Danna's book begins with the story of David at seventeen years old and his parents' decision to have him leave his home and journey eastward, always moving one step ahead of the advancing Nazi forces.
The process of writing about how David survived was complex and emotional, but it showed David the importance of preserving these stories and making them widely available so that the history of the Holocaust is never forgotten.
What We Do
---
One of our goals in establishing our program was to ensure that current and future generations could learn about the Holocaust from the survivors who had the courage to write their stories. From the profound belief in the power of stories, we've grown to become an award-winning and critically lauded publisher of Canadian Holocaust survivor memoirs and a leader in producing classroom resources for Holocaust education.
Since 2005, we have published the first-person memoirs and diaries of well over a hundred Holocaust survivors who immigrated to Canada. We stay true to the authors' voices while producing exceptionally researched narratives that are historically accurate. We pair these powerful personal stories with introductions written by experts in the field of Holocaust studies and supplementary maps, glossaries and additional resources to ground the particular experiences in their historical contexts.
Our educational resources, which accompany many of our memoirs, are welcomed by middle and high school educators across Canada. We help teachers bring the subject of the Holocaust into their classrooms, using first-person narratives as a way for their students to meaningfully connect with the history of the Holocaust through survivors' experiences.
Our books are also used by scholars around the world studying the Holocaust and the diverse experiences of survivors. Through academic initiatives, we encourage a post-secondary readership to engage with memoir and testimony for both scholarly research and teaching in a variety of courses.
We know that David Azrieli would be proud of the legacy he created. These unique memoirs put a name and a face on what was lost, allowing readers to grasp the enormity of what happened to six million Jews – one story at a time.
Who We Are

---
Naomi Azrieli, Publisher
Jody Spiegel, Program Director

Arielle Berger, Managing Editor
Catherine Person, Manager and Editor of French Translations
Carson Phillips, Manager of Academic Initiatives
Marc-Olivier Cloutier, Manager of Education Initiatives
Matt Carrington, Editor
Devora Levin, Editor and Special Projects Coordinator
Catherine Aubé, Editor of French Translations
Aefa Mulholland, Editorial Assistant and Program Coordinator
Michelle Sadowski, Educator
Nadine Auclair, Educator
Elizabeth Banks, Curator and Archivist